Part 2 of the Renovation Series
Manufactured or Antique Brick & Stone Veneer
Manufactured Stone or Brick Veneer material in your home is a popular renovation idea because of the charm and personality it adds to your home interior. Eco-logically Friendly and requires very minimal upkeep/maintenance. This material provides an Energy advantage by adding thermal mass to your home. Excess heat from wall frames and insulation is reduced in general.
This Veneer is manufactured using bricks or stone, however it is much thinner compared to your exterior Bricks layered. Since the Veneer is not so heavy in weight, it does not significantly affect the structural aspect of your home. This material may be used in several creative ways, such as on your Fireplace, Kitchen Back splashes, Bathroom Accent walls, columns, ceiling overhead, etc. Compared to most renovation ideas, Data and Statistics so this upgrade provides a higher retain able economic value on every dollar invested.
With Freehold ownership, you have the privilege to make your remodel your home in any way you like. A well designed and welcoming front door is an appealing upgrade to your entry way, and with stunning architectural detail, it reflects your home style.
It is best to choose an entrance that would be hospitable to you and your guests. A variety of colors, trims, wood material, steel, fiberglass, and specialized locking mechanisms are some of many factors that enhance your home entrance. Some other primary functions of your front door are security and energy efficiency.
For Instance, A sturdy wooden door embodies design from the Arts and Crafts Era, which will last for many years by choosing high quality wood, which required minimal painting and staining, for maintenance.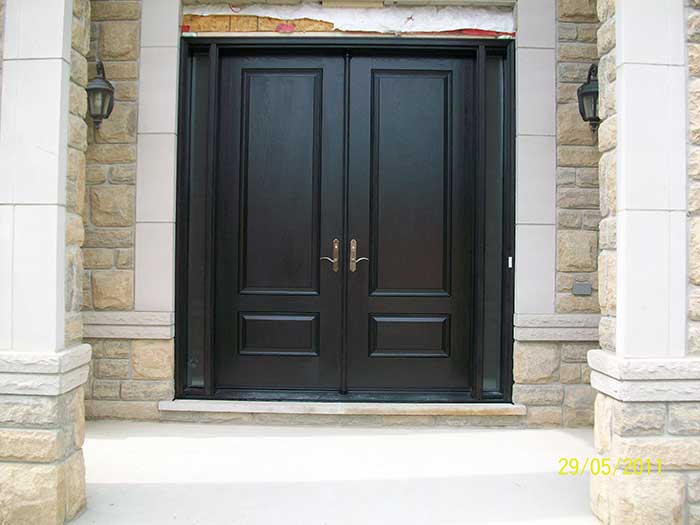 Wrought Iron + Glass Insert
For every home owner, it is essential to create an accessible space that fits your landscape and outdoor lifestyle. There are several stunning deck designs, ideas and layouts, with the right placement, size, and function for you.
Some materials include, pressure-treated lumber, wood composite (water-resistant), and capped polymer. Some stylish addons may include, pre-assembled railings, lattice skirtings, fascia, and deck lighting. You may style your deck in whatever way you prefer and do it dress it with modern furnishings, container plants, outdoor decors, and your BBQ.
The maintenance of your deck will be minimal and usually needed once every 10 to 15 years, depending on how well it is made. Repairs and maintenance usually consists of moisture damage, rot, pulling popped nails, or replacing boards. These are very minor repairs and can also be done by yourself (DIY). It is recommended to do some research and get expert advise before building a deck, to avoid costly mistake and to ensure you meet building requirements.
One of the most visually appealing home improvement and renovation is painting. In our experience, we have notices that homes that are well painted, have always had more appeal to home buyers in the market, with a lot less days on the market, due to such a high interest.
Whether you are painting walls, wood, kitchen cabinets, framing, etc. in the exterior or interior, the right paint cant revitalize and renew your entire home by adding character and a vibrant look. It is affordable and creates a create impact objectively increasing home value, and curb appeal.
Painting can reduce home dust, stains, and greasy fingerprints. Exterior painting can cover stains and damages on surfaces that have been affected by extreme weather and heavy rains.
Painting companies today are increasing their use of Low VOC (Volatile Organic Compounds) in their paints to improve healthy indoor air quality, and by keeping excessive moisture out.
This Concludes our Renovation Series 2, stay tuned for Part 3 of our Blog Series